With traditional orthodontics you get a one-size-fits-all approach to treatment. It works, but it requires more adjustments and guesswork by your orthodontist throughout your time in braces. That means more orthodontic appointments and a lot more time in braces. But with Stride Custom, your treatment is customized to your unique anatomy, so you get to your new smile faster than ever.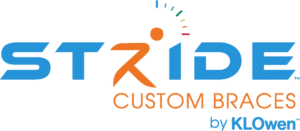 The process starts with a digital scan of your teeth – no goopy impressions required! The scan creates a topographical map of your unique anatomy which your doctor uses it to select the ideal brackets and placement for each tooth. This customized approach means less time in braces, less time away from school or work, and more time loving your new smile.
We know your schedule is full and we respect your time. That's why we take pride in offering superior custom treatment that allows you greater control over your calendar.

3 Easy Steps to Your New Smile
We take a 3D scan of your teeth and bite. No more goopy impressions. Then, we digitally plan your treatment and assemble your custom brackets.
About 2 weeks after your first appointment, we perfectly place your braces using a 3D printed tray.
Before you know it, your new smile is ready for its big reveal! Stride Custom Braces significantly decreases the need for frequent office visits so you'll spend less time in our office – and more time smiling.
What Patients Love about Stride Custom Braces
Treatment starts faster
Treatment finishes 40% to 50% faster
Fewer office visits required
Custom braces make treatment more comfortable
Exceptional results are achieved in record time